How do I request a disclosure statement?
Preferred Communities has partnered with HomeWiseDocs.com, the industry's leading community association escrow, closing and document service company, to offer a streamlined process for the order and delivery of community association resale and lender documents. Professionals requiring essential real estate data and documentation for association real estate transactions can find it with HomeWiseDocs.com.
Simply click this link to get started: https://www.homewisedocs.com/
Sign up is quick and easy and you can begin using the system immediately. Resale disclosures, estoppels, demands, lender questionnaires and association governing documents are all available with HomeWiseDocs.com. Their professional staff is available for any questions you may have toll-free at 866-925-5004.
---
How do I get keys for my mail box?
The Association is not responsible for the individual mailbox locks or keys.  Please contact your local locksmith to obtain a new lock and/or key for your mailbox.  You can also do the work yourself by purchasing a lock at any hardware store.  If you do not know your mailbox number, contact your local post office.
---
I received a violation to remove tree suckers.  What is a tree sucker?
"A basal shoot, root sprout, adventitious shoot, water sprout or sucker is a shoot or cane which grows from a bud at the base of a tree or shrub or from its roots. This shoot then becomes, or takes the form of, a singular plant. A plant that produces suckers is referred to as surculose. Root suckers may emerge some distance from the originating plant such as in Rhus spp, some Prunus species and Embothrium species. Suckers also may arise from the stumps of trees that have been cut down. Suckers arising from an unwanted tree stump can be controlled with herbicides such as glyphosate. This kills the entire plant, including suckers and roots".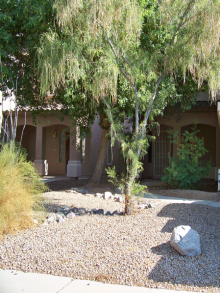 ---
What does an inoperable vehicle look like to the person conducting inspections in my community?
Spider webs forming on various areas of the vehicle
Flat tire(s)
Sitting in the same place & position during multiple inspections
Looks filthy and not taken care of
Does not have current registration tags
Please remember that inoperable vehicles are not allowed in driveways or on the streets.
---
How do I get a pool key, gate remote, or pedestrian gate key?
Homeowners may come to Preferred Communities office to purchase and pickup these items.  We can also ship the items to you for an additional fee.  Please note – your account(s) must be current.
---
Missing landscaping
Landscaping is required for all residential front yards and street side yards visible from neighboring properties, streets, and common areas.  Landscaping and irrigation improvements shall be installed in accordance with plans approved in writing by the Architectural Committee. There is a minimum standard of landscaping required in the front yards of each lot.  Please refer to your community's CC&R's to confirm the landscaping requirements.
---
How do I request payment coupons to be sent to me?
Preferred Communities does not provide coupons for all communities.  Coupons are automatically sent to homeowners when they first move into a home. Coupons are also mailed to homeowners on an annual basis.  If you live in a community that offers coupons but never received them, you may contact our office to request them.  Coupons are not required to submit a payment.
---
I received a violation for my dying lawn. How do I correct this problem?
The inspector may cite you for lack of "lawn maintenance".  Often times this verbiage pertains to a dying lawn.  To correct the issue we suggest the following:
Overseeding your lawn
Lay down sod
Change the landscaping – ie. grass to gravel
To change your lawn from grass to gravel, please submit an Architectural Request form.
---
How do I add my name or tenant's name to the callbox at the gate?
The homeowner must submit a request in writing. You can email the request to info@gothoa.com.
---
How do I make a payment?
Mail a check or money order to PO Box 65493, Phoenix, AZ  85082-5493.  Be sure to write your account number on your check/money order.
To make an online payment, click "MyAccount Portal" on the menu.
---
How do I change my mailing address?
Changes to your mailing address can be made online by accessing "MyAccount Portal".  You can also submit your request by clicking on "Mailing Address Update" under "Homeowners".
---
How do I get a hold of a Board Member?
Due to privacy laws, we are unable to release personal information about another homeowner or Board Member without their consent.  This includes phone numbers, email addresses, etc.  If you would like to speak to a member of the Board, please put your request in writing and we will forward the message on your behalf.
---
How do I attend a Board Meeting?
Please contact our office to find out when the next meeting is scheduled.  If you would like to add something to the agenda, you must let us know in advance so that we have ample time get your item added.
---
How do I give someone else access to my account?
You must submit your request in writing.  This can be submitted via fax or email.
---
Why is my gate remote no longer working?
This often occurs when the battery runs low.  If you've had the gate remote for several years, it could just be natural wear & tear.  New remotes can be purchased through Preferred Communities.  The gate remotes have nothing to do with the gate code changes.
---
How do I submit an appeal?
Information on the appeal process can be found by clicking "Appeal Process" under "Homeowners".
---
I received a Notice of Violation for something that was not on my property.  What do I do?
You may do the following if you believe you were mistakenly cited:
Submit an appeal to the Board of Directors.  Appeal requests must be in writing by either the owner or any person designated by the owner.
Provide us with evidence by sending us pictures, documentation, etc. pertaining to the violation to prove it was not related to your property.
---
What types of things require Architectural Approval?
Please refer to the Governing Documents for your community. If you don't have this information handy, click "Communities" on the menu.
In general, an architectural request is required whenever you are making changes that are visible from the street.  This also pertains to the backyard if something is visible over the fence line.  This includes but is not limited to landscaping, painting, decorative items, doors & windows, screens, and play structures.
---
How do I file a complaint about my neighbor?
Complaints must be in writing and can be submitted by email, fax or US Mail.  Per Arizona Law (A.R.S. §33-1242 and A.R.S. §33-1803) complaints cannot be anonymous.  The Association must provide your first and last name if this information is requested.  To submit a complaint, click on "Report a Violation" under "Homeowners".